Our video courses are for premium members only, please register as a paid member or upgrade your account to gain access!
FlexiShield Air Release Cosmetic PPF - Tesla Mirror Wrap
New
Air release and PPF combined? Yes, it's true! This is the latest and greatest of technology for...
Gloss Carbon Fiber Mirror Wrap - Lamborghini Urus
New
Hexis Carbon One is one of many gloss carbon fiber films on the market. I'm gathering several d...
Wrapping Around The Mirror Glass - 2010 Audi A4 Side Mirror
New
This is a lengthy and challenging mirror to wrap. Most mirrors these days aren't this difficult...
Full Breakdown 3 Piece Mirror Wrap - Volkswagen Jetta / Golf
This mirror can either be difficult or easy to wrap but I'll teach you how to make it easy and...
One Piece Mirror Cap Wrap - Ford F-150
In this video I show you how to wrap a Ford F-150 mirror cap in one piece of film. This mirror...
Difficult Mirror Wrap & Base Using A Template - Lexus IS350
During this mirror wrap I made several mistakes, 5 to be exact. This is not the hardest mirror...
Avery Side Mirror Cap Wrap With Removal - Mitsubishi EVO
Wrapping a mirror cap made easy and durable. It adds extra security when we're able to remove t...
Installation - Subaru BRZ / Toyota FRS Mirror Cap Wrap While Off The Car
Sometimes when the mirror caps fit very tight it is better to remove the cap in order to finish...
Advanced - Tesla Model X ONE Piece Mirror Wrap
I've shown you how to do this in two pieces on YouTube, now it's time to learn how to wrap this...
Tesla Mirror Chrome Trim Delete
This is how you vinyl wrap the chrome trim that goes around the Tesla mirrors.
BMW I3 One Piece Mirror Cap Wrap - How to do it
Sometimes it is possible to wrap objects and panels without using seams. Knowing how to do it a...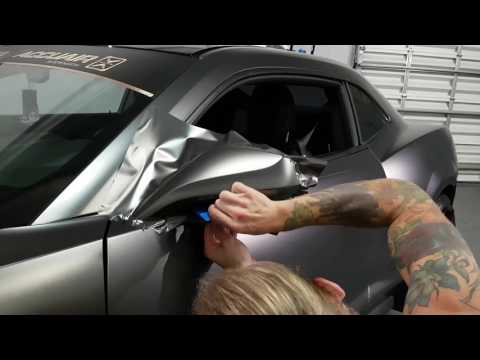 How to wrap side mirrors - Camaro
How to vinyl wrap side mirrors in satin chrome