Our video courses are for premium members only, please register as a paid member or upgrade your account to gain access!
Installation - Tail Light Tint 2018 Honda Civic
Tinting the new generation of Honda Civic lights is an advanced task, especially when you don't know where to begin or what can actually be done. In this video I take you a little deeper into what can and can not be tinted because of physical and material limitations.
Technique - Pillar Tucking Behind Front Fender + Istallation Tesla Model 3
Tucking film into the Pillar area which meets the front fender can be tricky and usually results in the bunching up of film. In this video I show you how to wrap the Pillar and also tuck the film in deeper without creating wrinkles in order to hide the paint color better.
Installation - Tesla Model 3 Front Bumper Wrap With Inlay!
The long awaited and highly anticipated Tesla Model 3 front bumper wrap how-to. The Tesla Model 3 is probably one of the most purchased vehicles on the market as of 2019. Owners of this vehicle don't normally know where to go to get aftermarket services done but they do want them and they aren't shy about spending money. This particular vehicle is one I get in often for full chrome deletes but not only that, full body PPF and color changes including interior wraps! From beginning to end, I show you how to go about wrapping this bumper in Vvivid's new 2020 Gloss Nardo Grey with the stretchable plastic cap. The new film will leave your wrap almost completely scratch free.
Technique - Rear Door Trim (One Piece)
Ever wonder what to do with that tiny trim piece on the rear door of a 4 door car? In this video I show you how to wrap it in one piece with the door panel.
Technique - Trimming & Tucking Film Into Seals
Trimming and tucking the film is more or less your last step when wrapping a vehicle. Knowing how to do this properly in order to leave the correct amount of film will simplify your work. It will also help you to achieve full coverage.
Technique - Blade Position & Cutting Vinyl Between A Gap
This is just one way you can trim between gaps. Using different techniques can help you achieve better results and also minimize risk.
Installation - INOZETEK (new brand) High Gloss Hood Wrap
Inozetek (ee-nose-tek) is a new brand that has hit the market several months ago. This brand has claimed the top position with their super gloss finishes in the wrap film industry. In this video I explain how they achieved that with the technology behind their films. I'll also show you how this film installs while talking about the pro's and con's.
Installation - Detailed Front Fender Wrap Kia Stinger
This installation video is detailed and will show you how to wrap the front fender on a Kia Stinger. How you pull the film and set yourself up is very important. It's also important that you take your time when doing the corners, cutting & trimming.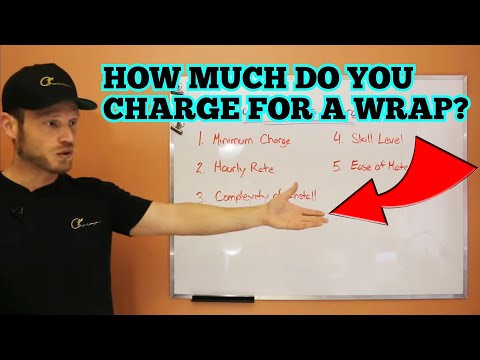 (DETAILED) HOW MUCH TO CHARGE or PAY FOR A WRAP?? Beginners To Pro Edition
I did a video like this a couple of years ago but it wasn't into great detail. This video goes into much more detail about how and what to charge for a vinyl wrap. This video is intended mostly for installers but will also help consumers when they question what to charge or pay for the work. I'll walk you through 5 detailed points which make up my price range for car wraps, other wraps or any other type of business for that matter.
Disassembly - BMW Shark Fin Antenna Removal
Generally I prefer to remove the shark fin antenna whenever possible. Being able to remove it makes for an easier and cleaner install. Always make sure to reseal this antenna using the appropriate sealant once done.
Disassembly - 2018 Range Rover Rear Hatch Trim Removal
Removing the rear trim piece of the hatch of this Range Rover will make the wrap installation of this particular area much easier. This area on the vehicle is one of the more difficult areas to wrap. Removing the trim will give you much better access and also reduce the chance of error.
Installation - Using An Inlay To Wrap The Rear Hatch Of A 2018 Range Rover
This is a more complicated area when it comes to wrapping this particular vehicle. Knowing why, when and how to do an inlay is important. I show and explain to you the inlay for this situation.